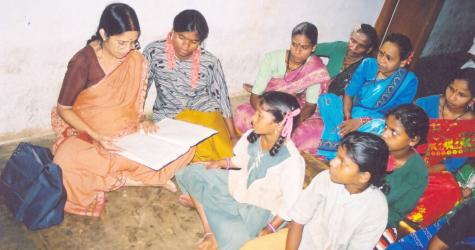 In 1999 when a joint Canadian International Development Agency-Shastri Institute project took her to some isolated forest communities in the southern Indian state of Karnataka Dr. R. Indira found villages that were all but cut off from the outside world. The women residents of these places were just as isolated.
"Many were not used to participating in public," Dr. Indira recalls. "We tried to make women see they needed to participate and to ask questions." To do this, Dr. Indira, a professor of sociology and director of the International Centre at the University of Mysore, helped establish a women's self-help group.
Over the course of three years, Dr. Indira saw many changes. "Even the idea of women and men sitting together was a big deal at first," she says. But that eventually became accepted, leading to bigger changes. "Even state representatives were saying 'This is the first time we are seeing so many women come out of their houses to participate in public events.'"
During a follow-up project funded by Shastri in 2003 Dr. Indira and her team looked at expanding the reach of the self-help groups, many of which had been formed as savings or microfinance groups. "We wanted to look at them as centres around which women could rally to deal with larger issues of rural development," Dr. Indira says.
Under this second project, a community hall with a computer room, TV room and library was established in one village. A second computer centre soon followed in a building alongside a main highway. Today, Dr. Indira says that all manner of people—students, doctors, state workers—are using these facilities.
A theatre troupe that deals with issues like alcoholism and the importance of education was also founded. Other lasting impacts include a comprehensive map of all the infrastructure in the district and a manual to guide people in establishing and running self-help groups.
For Dr. Indira the most valuable lasting impact is her relationship with the women themselves. "They still call me sometimes and ask me if I can come discuss issues with them," she says. Whatever the results of these discussions the self-help groups have a benefit in themselves. "They get the women mobile, they get out to see others and share their experiences," Dr. Indira says. Of course, the groups also ensure that when a woman speaks in the forest everyone hears.